Artisans
Bee Raw Honey
"Bee raw honey is about purity of flavor.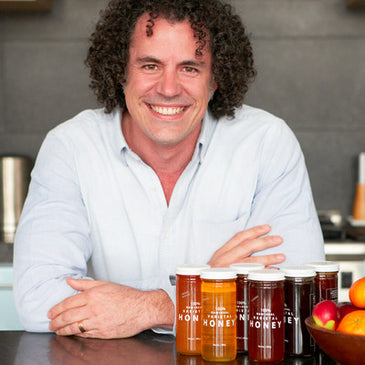 "Bee raw honey is about purity of flavor. Raw. Real," said Zeke Freeman, the founder of Bee Raw. Zeke grew up on a farm in Pennsylvania, where he gained an appreciation for homegrown foods and quality ingredients. He took his passion to the culinary world, first enrolling in the University of Montana's School of Food Management & Culinary Arts, and then heading to France to continue his education at the Hotel School of Grenoble. After graduating, he worked under the direction of Alain Ducasse, a highly acclaimed chef.
 A couple years later, Zeke moved back to the US and began working as a buyer for Dean & Deluca, then became an advisor for a local honey brand. He acquired a majority of the company, re-launched as Bee Raw Honey, and made his way onto Oprah, The New York Times,  Food & Wine, and Martha Stewart Living.
 Bee Raw now sells 12 varieties of honey in flavors like Orange Blossom and Wild Raspberry, all sourced from wild or organic floral sources. And if there's one thing you learn with a taste of Bee Raw honey, it's that it can be used in countless recipes and pairings.
 "I love to experiment with and layer flavors, and I especially enjoy teasing out the nuances of each raw honey varietal to find its perfect pairing," Zeke said, offering recipes like Honey Pecan Rolls and Brasswood Honey Ribs on his website.
 To Zeke, Bee Raw is not just honey. It's a way of life. He is an advocate for American family-owned apiaries, educating the public about beekeeping's importance in agriculture. He also started the Bee Raw Foundation with a mission to help save endangered bees from Colony Collapse Disorder.